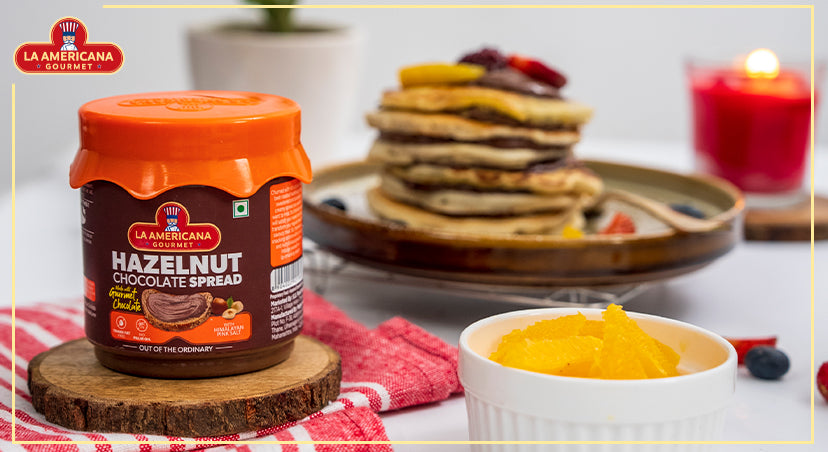 There are multiple ways to satisfy your sweet tooth but one of the best is to try hazelnut spread. With its smooth texture and rich flavor, it will win your heart for sure. Although it can be enjoyed as a spoonful or on a bread slice as a spread, it has a versatile nature. LA Americana Hazelnut Chocolate Spread extends far beyond the traditional uses and in this blog, we'll discuss the ways to enjoy the spread. 
Heavenly Breakfast Creations:
You can have an unforgettable breakfast experience with hazelnut spread and the best part is that your kids will adore the breakfast. Simply spread it on warm toast or croissants and serve it to your little ones. You can also use the spread and drizzle this chocolaty delight on your pancakes, waffles, and toast to make mouthwatering treats in the morning. To add a health tweak to the morning booster, have a dollop of hazelnut spread into your oatmeal and relish it.
Mesmerizing Desserts:
Nothing can beat hazelnut spread when it comes to making appetizing desserts. You can use it in multiple ways and trust me, you'll be surprised by its performance. Try making a tempting milkshake, use it as a cake frosting, or add it into a batter for a luscious twist. It also pairs perfectly with cookies or can be wonderfully used as a filling or a topping. Now when you have got multiple ideas, you can explore more and create pleasing desserts.
Savory Sensations:
Surprisingly, hazelnut spread can be used with many savoury dishes. You can give an unconventional twist to your classic sandwich by combining hazelnut spread with cream cheese. Alternatively, use hazelnut spread as a glaze or marinade for chicken giving a delightful sweetness that pairs well with savory seasonings.
Drinks to Savor:
When it's about extending your hazelnut spread experience, add it to your favourite beverages. Stir a spoonful of hazelnut spread into your coffee or hot chocolate for a velvety drink that will warm your soul. You can also try making a refreshing drink in summers by blending hazelnut spread with ice, milk, and a shot of espresso. Go and get creative with your drinks by infusing hazelnut spread to your mocktails, shakes, and smoothies.
That's a wrap!
Most of us are not aware of the versatility of hazelnut spread but now you must have got an idea on how to enjoy your meals with it. From mouthwatering breakfast to dinner, savoury snacks to beverages, its rich, velvety, and nutty flavor adds magic to the classic food. Embrace your culinary creativity and experiment with hazelnut spread in various recipes, exploring new and exciting ways to indulge your taste buds.