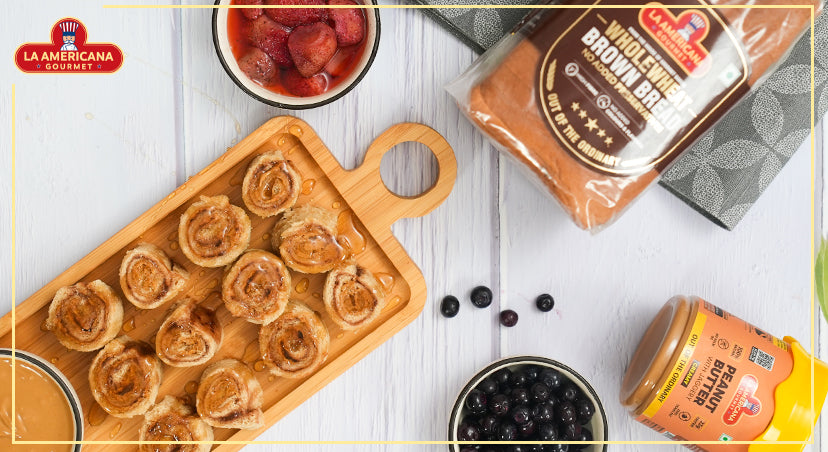 In the world, which is full of day-to-day hustle and bustle, people always look around for an easy to make eating options that are also healthy. And this is why most of us want to know can brown bread and peanut butter be a part of a healthy diet. Well, the answer is Yes, but only when consumed in moderation and as part of a balanced meal plan. In this blog post, you'll find the nutritional benefits of both, along with brown bread recipe options using peanut butter:
Brown Bread Benefits:
The Goodness of Wheat: LA Americana Gourmet Brown Bread is made of whole wheat, retaining the bran and germ, making it a healthier bread that has fiber, minerals, and vitamins.
Rich in Dietary Fiber: One of the major benefits of brown bread is its high dietary fiber content. As the bread has fibre it helps in digestion and may help in maintaining a healthy weight if consumed in moderation and followed by a proper diet and exercise. Also, the bread retains the nutrient-rich bran and germ of the grain, which makes it a healthy choice. 
Long-Term Filling: As the bread has high fiber content along with some nutrient content, consuming a brown bread sandwich can provide longer-lasting satiation. It also helps in curbing odd-time cravings and encourages healthy eating habits.
Peanut Butter Benefits:
It has Healthy Fats: There is a popular belief that peanut butter is not healthy. However, peanut butter has heart-healthy fats that include monounsaturated and polyunsaturated fats. Consuming peanut butter in moderation is also a healthy choice. 
Protein Powerhouse: LA Americana Gourmet Peanut Butter has 26g of protein per 100g serving, which makes it a good source of protein. You can include it in your diet if you are focusing on muscle repair and growth. 
Versatile and Delicious: Not only peanut butter has nutritional benefits, but it's also incredibly versatile, making it a perfect ingredient in many recipes. From sandwiches and smoothies to baked goods and salads, the options are endless. It's available in different textures and flavors, which makes it a wonderful addition to both sweet and savory dishes. 
Brown Bread and Peanut Butter Sandwich Recipes
Brown bread and peanut butter are good sandwich combination as it offers a balanced mix of carbohydrates, healthy fats, protein, and fiber. By having one sandwich, one can get energy, feel satisfied and get nutrition. However, it's essential to consider portion sizes and choose natural peanut butter without added sugars and palm oil. 
Some of the brown bread sandwiches are: 
Mixed Fruit Sandwich: You always have the option to make your sandwich more delicious and healthier. It is just a matter of picking the right ingredients, and you are done. To make a nutritious delight, add fresh fruits like banana or sliced strawberries, honey, chia seeds, and cinnamon and reap the maximum health benefits.
Pinwheel Sandwich: If you want to make something out of the ordinary with bread, try making an innovative pinwheel sandwich. Remove the crusts of bread, flat it with a rolling pin, spread peanut butter on the top of the bread, add your favorite ingredients and roll it. Make as many rolls as you wish, place them on a chopping board, and cut them into portions. Enjoy the delight without baking or frying. 
Peanut Butter vegetable Sandwich: Take veggies of your choice. You may add bell peppers, avocado, carrots, onions, olives, and tomatoes. Spread the peanut butter on the brown bread slice, add the veggies, some spices, and herbs, toast the bread slices and enjoy. 
Final Words:
As with any food, moderation is key. It's important to consider your overall dietary needs, including calorie intake and potential allergies or sensitivities. Consulting a healthcare professional or registered dietitian can provide personalized advice based on your specific health goals and dietary requirements.
Remember, a balanced and varied diet, including a wide range of nutrient-dense foods, is the foundation of a healthy lifestyle.