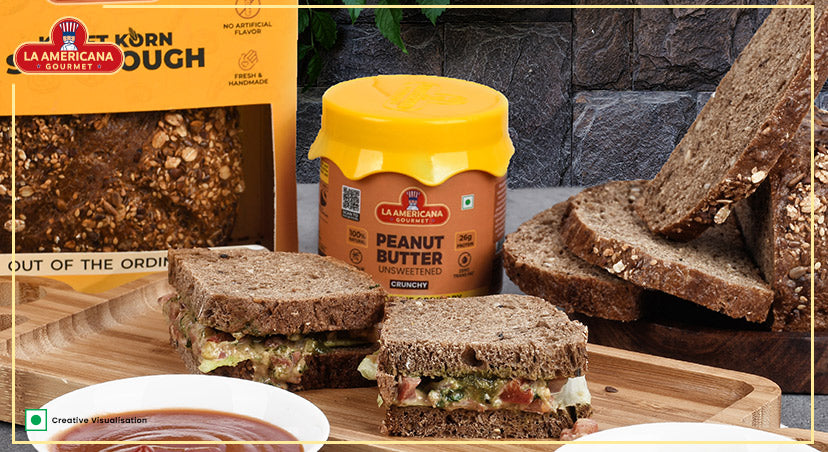 Creating healthy recipes no longer requires much effort; peanut butter has proved it. It's a versatile ingredient that can be used to create a wide range of delicious dishes. In this blog post, we'll explore some easy and mouthwatering peanut butter recipes that go beyond the classic PB&J. You must you LA Americana Gourmet Peanut Butters to make these delightful recipes because these peanut butters are preservative free and trans fat free. Also, they are made from all natural ingredients and the sweetened variants have jaggery.
Peanut Butter Banana Smoothie (Total Time: 5 minutes)
Start your day with a nutritious and creamy Peanut Butter Banana Smoothie. Blend:
1 ripe banana
2 tablespoons of peanut butter
1 cup of milk (dairy or plant-based)
1 tablespoon of honey
A handful of ice cubes (optional)
Peanut Butter Oatmeal (Total Time: 10 minutes)
Upgrade your morning oatmeal by adding a spoonful of peanut butter. Cook your oatmeal as usual, then stir in:
1 to 2 tablespoons of peanut butter
Sliced bananas, berries, or chopped nuts for extra flavor
Peanut Butter Energy Bites (Total Time: 15 minutes)
These no-bake Peanut Butter Energy Bites make for a quick and healthy snack. Combine in a bowl:
1 cup of rolled oats
1/2 cup of peanut butter
1/3 cup of honey
1/2 cup of ground flaxseed
1/2 cup of chocolate chips (optional)
1 teaspoon of vanilla extract
Make small-sized balls from the mixture and keep it in the refrigerator for around 30 minutes.
Thai Peanut Noodles (Total Time: 20 minutes)
Satisfy your cravings for Thai cuisine with this Peanut Noodle recipe. Cook and drain your favorite noodles, then toss with a sauce made from:
1/2 cup of peanut butter
2 tablespoons of soy sauce
2 tablespoons of lime juice
2 tablespoons of honey
Red pepper flakes
Chopped coriander and peanuts for garnish
Peanut Butter and Chocolate Pancakes (Total Time: 30 minutes)
Making pancakes with LA Americana Gourmet Peanut Chocolate Spread can be a delightful experience. Prepare your pancake batter and swirl in:
2 tablespoons of peanut butter
A handful of chocolate chips
Cook the pancakes as usual, and drizzle with maple syrup.
Peanut Butter and Jelly Stuffed French Toast (Total Time: 25 minutes)
Transform ordinary French toast into a decadent breakfast by sandwiching peanut butter and jelly between two slices of bread before dipping in your egg mixture. Cook until golden brown, then dust with powdered sugar.
Peanut Butter and Apple Sandwich (Total Time: 5 minutes)
This kid-friendly snack combines the classic pairing of apples and peanut butter. Slice your favorite apple into rounds and spread peanut butter on each slice. Create mini sandwiches by topping with another apple slice.
Peanut Butter and Banana Quesadillas (Total Time: 10 minutes)
For a unique twist on quesadillas, spread peanut butter on a tortilla, add banana slices, and drizzle with honey. Fold in half and toast in a pan until golden brown.
Peanut Butter and Jelly Rolls (Total Time: 15 minutes)
Make lunchtime fun with Peanut Butter and Jelly Rolls. Take a rolling pin and flatten bread slices.  Start with spreading peanut butter and jelly on the slices, roll them up, and cut into bite-sized pieces.
Peanut Butter Ice Cream (Total Time: 5 minutes)
Blend up a creamy Peanut Butter Ice Cream using frozen bananas, peanut butter, and a touch of honey. It's a guilt-free frozen treat.
That's a Wrap:
Peanut butter isn't just a sandwich spread; it's a culinary powerhouse that can elevate your meals and snacks. Whether you're enjoying it in a smoothie, drizzling it over pancakes, or creating savory Thai-inspired dishes, peanut butter adds a delightful twist to your culinary adventures. Try these easy recipes to savor the rich, nutty goodness of peanut butter in various ways.