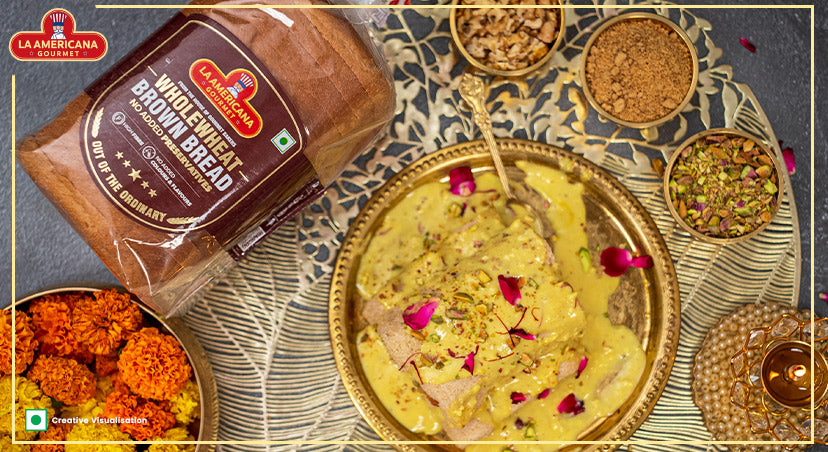 Diwali, the festival of lights and sweets, is a time when indulgence is the norm. However, in recent years, there has been a growing focus on health-conscious celebrations. And there are a lot of options available in market for healthy celebration. However, one can't deny the role of breads during festivals. But this festive season you can make your treats healthy and delicious at the same time by incorporating brown bread into your dessert recipes. In this blog, we'll explore five delicious desserts using healthy bread version and share some insights on why they're a smart choice.
Brown Bread Malpua: A Nutrient-Rich Twist
Malpua is a traditional Diwali dessert, and with the addition of a bread that is made with whole wheat, it becomes a nutrient-rich delight. Whole-grain bread is finely ground and blended with milk, jaggery, and a dash of cardamom to create a batter. The result is a crispy, guilt-free Malpua that's high in fibre and flavor.
Bread and Ghee Pudding: Creamy and Satisfying
Replace refined biscuits with brown bread to make a hearty pudding that's creamy and satisfying. Soak the bread in milk, sweetened with jaggery, and flavored with a hint of saffron. It will create a comforting dessert. This healthy bread provides texture and fibre, making it a delightful addition to this classic pudding.
Bread Halwa: A Healthy Diwali Twist
Halwa is another Diwali favorite, and when prepared with a twist of healthy whole wheat brown bread, it gets a healthy makeover. The bread pieces are sautéed in ghee, sweetened with organic jaggery, and flavored with cardamom and nuts. The result is a fragrant and wholesome dessert that's both delicious and nutritious.
Bread and Banana Pudding: Naturally Sweet and Creamy
For a naturally sweet and creamy dessert, try a bread and banana pudding. Wholewheat bread and ripe bananas blend to create a smooth and nutritious pudding. With the natural sweetness of bananas, you can reduce the need for added sugar, making it a Diwali dessert that's both healthy and delicious.
Bread Gulab Jamun: A Unique Fusion
Gulab Jamun is an iconic Diwali sweet, and you can give it a healthy twist by using healthy bread. Crumbled bread, combined with khoya and a touch of cardamom, creates a unique fusion dessert. These jamuns are soaked in light, sugar-free syrup, allowing you to enjoy the sweet flavor without the guilt.
Why Brown Bread?
Including wholewheat bread in your Diwali desserts is a smart choice for several reasons:
Nutrient-Rich: It is rich in fibre, essential vitamins, and minerals. It provides a more balanced nutritional profile compared to refined white bread.
Better Digestion: The fibre in this bread aids digestion and helps maintain a healthy gut, which is essential during the festive season when indulgence is common.
Stable Energy: The complex carbohydrates in brown bread provide sustained energy, helping to avoid the energy spikes and crashes associated with sugary treats.
Flavorful Addition: It adds a pleasant nutty flavor and a delightful texture to desserts, enhancing their overall appeal.
A Sweet and Healthy Diwali
This Diwali, you don't have to compromise on flavor to maintain a focus on health. These five wholewheat brown bread desserts offer a delicious way to celebrate without guilt. By making small, conscious choices, you can ensure your Diwali is not only sweet but also nutritious.
So, go ahead and try these delightful Diwali desserts with LA Americana Gourmet healthy bread. You will be surprised with its taste and your taste buds will certainly thank you for making the festival truly special.
Additional Tips for a Healthier Diwali:
Stay Hydrated: Drink plenty of water to stay hydrated during the festive season.
Portion Control: Enjoy sweets in moderation to maintain a balanced diet.
Include Fruits: Add fresh fruits to your Diwali spread to balance out the indulgence with nutrients.
Stay Active: Don't forget to stay physically active to counter the extra calorie intake.