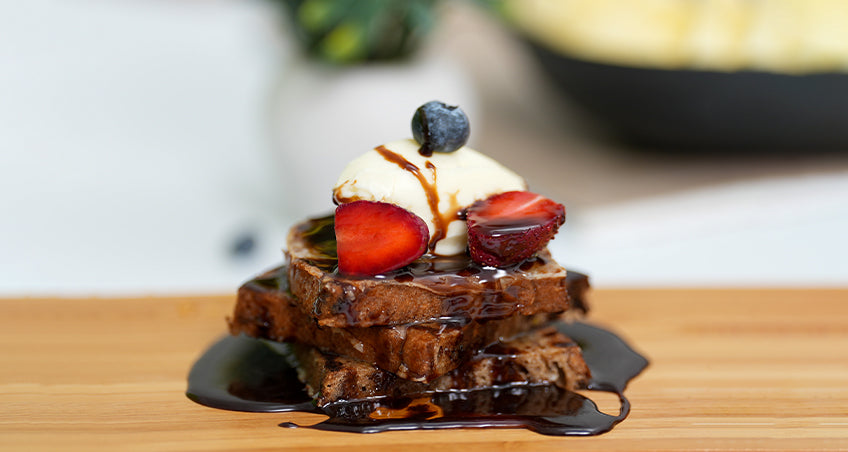 Baking Sourdough bread is a bliss and the happiness & satisfaction it gives is irreplaceable. Many individuals still wonder how skilfully sourdough can be used and the answer is that it's the base of many delicious meals. But it is so much more than just an ingredient in your dinner! There's nothing better than eating it with some simple yet mouth-watering toppings.
Here are the five best Sourdough Bread toppings:
Fruits and nuts
Dried fruit and nuts are a great option for toppers. If you want to use dried fruits, soak them in water for about an hour before topping them. This will help keep their texture from being too chewy or hard after baking.
Another option is to go for, fresh fruit for toppings! Berries are especially good because they're sweet but also tart and can be added whole if you don't mind a little mess on the countertop when making your sandwich. You can also try other fresh fruits like apples or peaches that pair well with savory delights.
Honey & Ice Cream
Honey is a great choice for your sourdough bread. It can be used as a spread or filling, depending on your preferences. Spread Honey over the top of your slice and then add other toppings, like ice cream, chocolate syrup, and berries.
Cheese
You can never go wrong with cheese. It's the perfect topping for any type of base, but it especially goes well with sourdough. Grated, shredded, or sliced cheese are all delicious options that can be added to your favorite loaf.
Olives
Olives are a healthy topping for your healthy loaf. They're high in monounsaturated fat and has many other benefits to offer so it makes a great combination you shouldn't miss trying.
Salsa, hummus, and other spreads
Salsa, hummus, and other spreads are classic toppings for your appetizing loaf. You can use them as a dip or spread on the bread, or you can combine them with other toppings. For example, you might like to top your crusty French baguette with salsa and cheddar cheese; add some avocado slices for extra flavour and texture.
Relish the options for sourdough toppings
We hope you have enjoyed reading about the different types of fermented bread, and we encourage you to try them all! There are so many delicious toppings that can be added to any type of LA Americana Gourmet Sourdough Bread. For instance, if you like nuts or cheese on your sandwich then try them with peanut butter or cheddar cheese spread on top of your favorite type of base. If you want something sweet, then try adding some strawberry, honey, and ice cream.