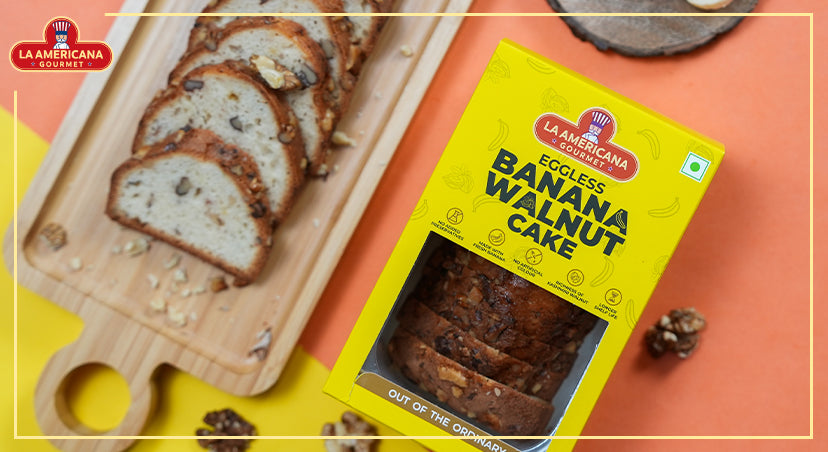 When it comes to cakes it deserves a special mention and one such cake is, Banana Walnut Cake by LA Americana Gourmet. This delightful treat combines the sweetness of bananas with the nutty goodness of walnuts. It's a classic dessert that can be enjoyed on its own or paired with other ingredients to create unique and delicious combinations. In this blog post, we will explore five delightful ways to enjoy banana walnut cake. Whether you're a fan of traditional flavors or looking for a creative twist, these ideas are sure to satisfy your taste buds and elevate your dessert experience.
Classic Slice with a Cup of Coffee:
Sometimes, the simplest pleasures are the most satisfying. Enjoy a classic slice of banana walnut cake with a steaming cup of coffee. The rich, moist texture of the cake complements the aromatic flavors of coffee, creating a delightful contrast. The nuttiness of the walnuts adds an extra layer of crunch and depth to the experience. Take a moment to savor each bite and let the flavors meld together for the perfect combination of comfort and indulgence.
Banana Walnut Cake Parfait:
Transform your banana walnut cake into a delicious parfait. Cut the cake into bite-sized cubes and layer them with whipped cream or yogurt in a glass or dessert bowl. Add sliced bananas and a sprinkle of chopped walnuts between each layer for added texture and flavor. Repeat the layers until you reach the top, and finish with a dollop of whipped cream and a walnut garnish. This parfait is not only visually appealing but also a delightful blend of textures and flavors.
Grilled Banana Walnut Cake Sandwich:
Take your banana walnut cake to the next level by turning it into a grilled sandwich. Slice the cake horizontally and spread a layer of LA Americana Peanut Chocolate Spread on each side. Heat a pan or grill and cook the sandwich until it's golden brown and the filling is warm and gooey. The heat transforms the cake, intensifying its flavors and creating a delightful crispy texture. Cut the sandwich into smaller portions and serve as a unique and indulgent dessert or snack.
Banana Walnut Cake Trifle:
Create an impressive dessert by making a trifle. Cut the cake into small cubes and layer them with custard or whipped cream, sliced bananas, and a sprinkle of walnuts in a trifle dish or individual glasses. Repeat the layers until the dish is filled and refrigerate for a few hours to allow the flavors to mix. The result is an appealing and delicious dessert that's perfect for special occasions or entertaining guests.
Conclusion:
Banana walnut cake by LA Americana Gourmet is such a versatile and delicious treat that can be enjoyed in various ways. Whether you prefer classic combinations or more innovative creations, these five ideas provide a range of options to elevate your enjoyment of this delightful dessert. From a simple slice paired with coffee to a grilled sandwich or a layered trifle, the possibilities are endless. So, grab a slice of this mouthwatering delight and let your creativity flow as you explore the wonderful world of flavors and textures it has to offer.