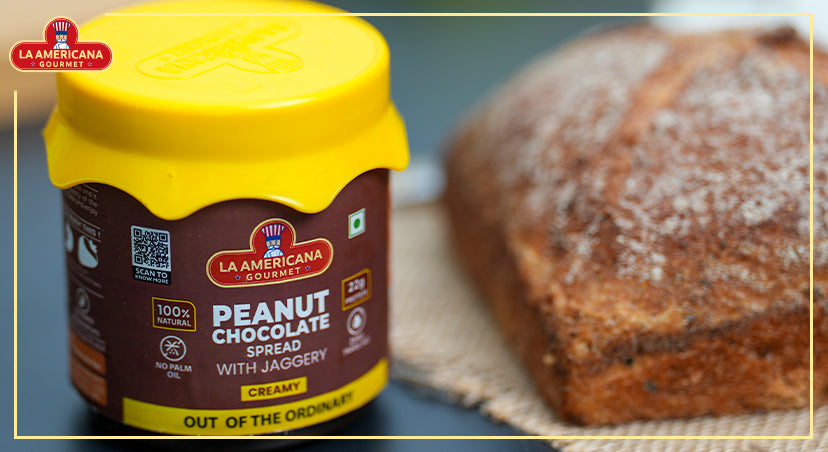 If you're a fan of the irresistible combination of peanuts, chocolate, and butter, you're in for a treat! In this blog post, we'll share five quick and mouthwatering recipes featuring the delightful flavors of Peanut Chocolate Spread from LA Americana Gourmet. Whether you're craving a sweet snack, a refreshing smoothie, or a satisfying breakfast, these recipes have got you covered. So, grab your ingredients and get ready to indulge in these delightful treats!
Peanut Chocolate Butter Cups:
Indulge your sweet tooth with these homemade peanut chocolate butter cups. Melt dark chocolate chips, spoon a layer into muffin cups, and then top it with a mixture of peanut chocolate spread that is made of jaggery for ultimate taste and health, vanilla extract, and salt. Pour more melted chocolate over the peanut butter layer, refrigerate until firm, and voila! You have a batch of irresistible homemade peanut chocolate butter cups.
Delicious Smoothie:
For a quick and energizing drink, blend together ripe bananas, peanut butter, almond milk, and ice cubes. The result is a creamy and satisfying peanut chocolate butter smoothie that will keep you going throughout the day.
Energy Balls:
When you need a portable and nutritious snack, whip up a batch of peanut chocolate spread energy balls. In a mixing bowl, combine rolled oats, peanut butter, mini chocolate chips, chopped peanuts, and shredded coconut. Make bite-sized balls from the mixture and refrigerate it to make it firm. These energy balls are perfect for a quick boost of energy on the go as the chocolate variant peanut spread by LA Americana has 22g of protein to energize you throughout the day.
Peanut Chocolate Spread Overnight Oats:
Simplify your breakfast routine with peanut chocolate butter overnight oats. Combine rolled oats, chia seeds, peanut butter, almond milk, and a touch of maple syrup. Stir well and refrigerate the mixture overnight. In the morning, give it a good stir and top with your favorite toppings like chopped peanuts, chocolate chips, or sliced bananas. This delicious and nourishing breakfast will keep you full and satisfied until lunchtime.
Cookies:
Indulge in the classic comfort of homemade cookies with a healthy and tasty twist. In a mixing bowl, combine peanut butter, milkmaid, vanilla extract, and cocoa powder. Mix everything properly and make small balls out of the dough. Flatten each ball with a fork and bake until golden brown. These delectable cookies are the perfect treat for any occasion.
Conclusion:
Peanut chocolate butter lovers rejoice! With these five quick and delightful recipes, you can enjoy the heavenly combination of peanuts, chocolate, and butter in various forms. Whether you're in the mood for homemade cups, a refreshing smoothie, energizing energy balls, a nutritious breakfast, or classic cookies, these recipes have something for everyone. So go ahead and treat yourself to these mouthwatering peanut chocolate butter creations that are sure to satisfy your cravings.