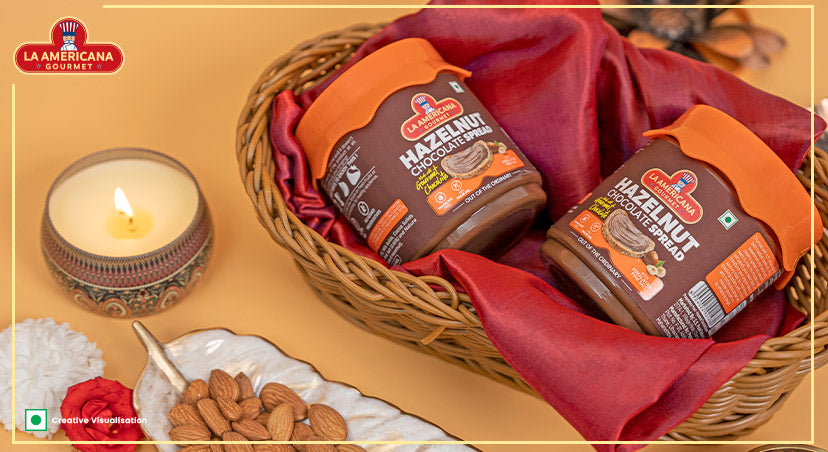 There are a lot of easy recipes one can make with hazelnut chocolate spread. And when you have it at home, trust me, nothing can be better than preparing something rich yet easy out of it and enjoy the velvety indulgence. This blog will help you with some quick and simple recipe options. Here are five creative ways to infuse hazelnut spread into your recipes. From breakfast to dessert, discover how this versatile ingredient can transform your dishes into decadent delights.
Hazelnut Spread Stuffed Pancakes
Start your day with a sweet twist by incorporating LA Americana Hazelnut Chocolate Spread into your pancake batter. Begin by preparing your favorite pancake batter. As the pancakes cook on the griddle, spoon a generous dollop of the spread onto each one. Allow it to melt, creating a gooey, delicious filling. The result is a quick recipe made for the breakfast that also feels like a decadent dessert. Top your hazelnut-stuffed pancakes with fresh berries and a drizzle of maple syrup for an extra layer of indulgence.
 Hazelnut Swirl Banana Bread
Upgrade your traditional banana bread by adding a generous swirl of creamy hazelnut chocolate spread to the batter before baking. The process is simple: prepare your favorite banana bread batter, and just before pouring it into the loaf pan, add lines of hazelnut spread. Use a knife or skewer to create a marbled effect by swirling the chocolate spread into the batter. The combination of moist banana bread and the creamy hazelnut filling creates a heavenly treat. Slice it up for a delightful snack or serve it warm with a scoop of vanilla ice cream for dessert.
Hazelnut Spread and Berry Parfait
Create a visually stunning and delicious dessert by incorporating your favourite spread into a layered parfait. Alternate layers of the spread with Greek yogurt and a medley of fresh berries in a glass or jar. The contrasting textures and flavors of the hazelnut chocolate spread, creamy yogurt, and juicy berries make for a delightful treat. This simple yet elegant dessert is perfect for entertaining or satisfying your sweet tooth with a touch of sophistication.
Hazelnut Spread Energy Bites
For a quick and satisfying snack, combine the chocolate spread with oats, chopped nuts, and a hint of honey to create no-bake energy bites. Roll them into small balls and refrigerate for a convenient and delicious pick-me-up. These hazelnut-infused bites are perfect for on-the-go snacking or a pre-workout boost. The combination of wholesome ingredients and the rich flavor of chocolaty hazelnut filling makes these energy bites a guilt-free indulgence.
Hazelnut Spread Drizzled Popcorn
Take your movie night to the next level by drizzling warm hazelnut chocolate spread over a bowl of freshly popped popcorn. Toss the popcorn gently to coat it evenly, creating a sweet and savory snack that will keep you coming back for more. Add a sprinkle of sea salt for an irresistible flavor contrast. The combination of the crunchy popcorn and the luscious hazelnut spread creates a snack that strikes the perfect balance between sweet and salty.
The Endless Possibilities of Hazelnut Spread
These five creative ways to use LA Americana hazelnut chocolate spread showcase the versatility and decadence this delightful ingredient can bring to your culinary creations. Whether you're starting your day with hazelnut-infused pancakes or winding down with hazelnut filling-drizzled popcorn, these recipes are sure to satisfy your cravings for sweet sophistication. Experiment in the kitchen and let the luscious flavor of hazelnut spread inspire your next culinary masterpiece. Elevate your dishes with the velvety richness of hazelnut spread and discover the endless possibilities it offers in creating indulgent and memorable treats.