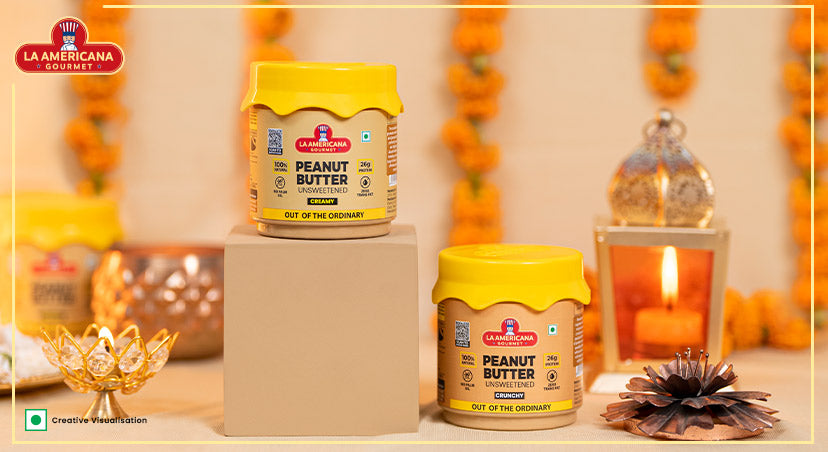 Diwali, the festival of lights, is a time for celebration, and what better way to celebrate than with delectable treats? Peanut butter, a favorite in many households, can be the secret ingredient to create unique and mouthwatering dishes that will leave your guests craving for more.
Here are six delightful peanut butter recipes to relish this Diwali.
Peanut Butter Laddoos
Start the festive season on a sweet note with Peanut Butter Laddoos. To make these, blend together LA Americana peanut butter with jaggery and a hint of cardamom powder. Roll the mixture into small balls, garnish with chopped nuts, and you have a healthier twist on traditional laddoos.
Chocolate Burfi
Everyone relishes the deliciousness of chocolate and what if you can have it in a healthier way. Take Chocolate Peanut Spread from LA Americana Gourmet and savour classic Diwali Burfi. Mix peanut butter and condensed milk and cook until it thickens. Set in a tray, and once it cools, cut into delicious, bite-sized pieces.
Peanut Butter Stuffed Dates
An easy yet impressive treat, stuffed dates with peanut butter are a healthy alternative to traditional sweets. Remove the pits from dates, stuff with a dollop of peanut butter unsweetened crunchy, and roll them in crushed pistachios. This way you can enjoy a simple yet healthy and tasty recipe at home.
Peanut Butter Chikki
Give the traditional chikki a modern twist with the addition of peanut butter. Melt jaggery, add peanut butter, and mix in roasted sesame seeds. Pour the mixture onto a greased tray, let it cool, and break into pieces. This crunchy delight is sure to be a hit at your Diwali celebrations.
Peanut Butter Coconut Ladoo
Combine the tropical flavors of coconut and the nuttiness of peanut butter to create a unique Diwali treat. Mix shredded coconut, peanut butter, and condensed milk, shape them into small ladoos, and roll them in coconut flakes. These little bites of joy are bound to be a crowd-pleaser.
Peanut Butter Mithai Parfait
Create a fusion dessert by layering traditional mithai with the creamy goodness of peanut butter. In a glass, alternate layers of crushed mithai and a peanut butter-yogurt mixture. Top it off with a drizzle of honey and a sprinkle of crushed pistachios.
Savour the deliciousness of healthy peanut butter recipes.
Incorporating peanut butter into your Diwali menu not only adds a unique twist to traditional sweets but also brings a touch of healthiness to your celebrations. With these delicious peanut butter recipes, you can be sure to delight your guests and make this Diwali a memorable one.
Remember, the key to perfecting these recipes is to use high-quality peanut butter. You can choose between smooth or crunchy peanut butter, depending on your preference, to add an extra layer of texture to these delectable treats.
Final Verdict
This Diwali, let the comforting and wholesome taste of peanut butter elevate your festive experience. These recipes are not only delicious but also versatile, making them perfect for sharing with family and friends. So, get creative in the kitchen, and have a delightful Diwali filled with peanut butter goodness!