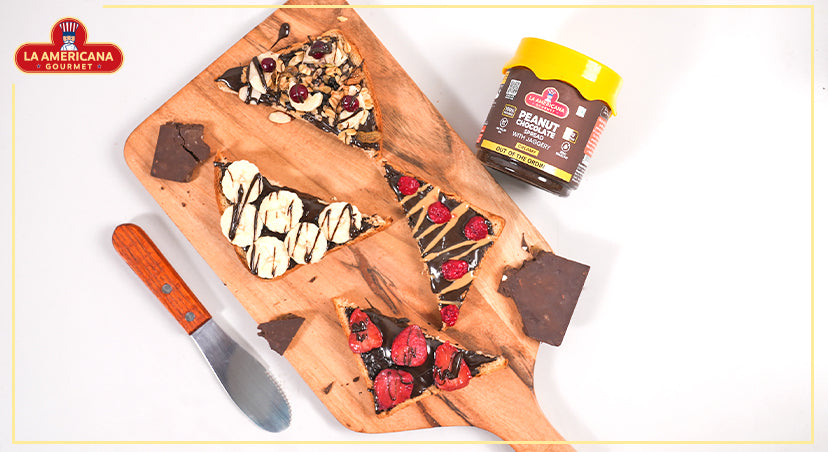 If you have started your weight loss journey but can't get over on chocolates, there's some good news for you. There are a lot of healthy yet tasty meal options that can be a part of your weight loss journey. And the best part is that you don't have to eliminate everything sweet. So, if you have a query in mind that is chocolate peanut butter healthy or not, you have landed on the right page. This blog will help you know whether chocolate peanut butter is healthy or not and if it can help you with your weight loss journey.
How to Eat Chocolate Peanut Butter to Lose Weight?
Consuming peanut butter also plays an essential role in deciding how much it will aid you in your weight loss. The Chocolate Peanut Spread by LA Americana Gourmet is rich in nutritious calories, has 22g of protein, and is a good source of fibre. 
When incorporating it into your weight loss regimen, you can enjoy it during breakfast, pre- or post-workout, or as a satisfying snack. Because of its satiating properties, it also helps you stay fuller for a long. Nevertheless, moderation is vital, and it's advisable not to exceed two spoonsful daily due to the macronutrient fat content.
Health Benefits of Chocolate Peanut Butter:
Antioxidant Powerhouse: When cocoa and natural peanuts are combined, chocolate peanut butter can offer a double dose of antioxidants. Flavonoids from cocoa and various phytonutrients from peanuts supports health by fighting against free radicals that can damage cells and cause aging.
Heart Health Support: The monounsaturated and polyunsaturated fats in peanut butter can promote heart health by reducing LDL cholesterol levels, thus lowering the risk of cardiovascular diseases. Additionally, the flavonoids in dark chocolate have been associated with improved blood flow and reduced blood pressure, further supporting heart health.
Satiety and Weight Management: The combination of healthy fats and protein in chocolate peanut butter can promote feelings of fullness and satisfaction. As a result, incorporating moderate amounts of chocolate peanut butter into your diet can help in managing weight.
Which Chocolate Peanut Butter is Best?
There are several chocolate peanut butters in the market, and this is why it becomes difficult to find which is the best peanut butter. However, there are a few things that you should check before buying.
Ingredients: Check the list of ingredients before buying the peanut butter. Look at whether it has natural and wholesome ingredients or not. Also, check whether it is made from good quality peanuts and has no added preservatives or palm oil.
Nutritional Content: Choose a chocolate peanut spread with moderate fat content, preferably from healthy sources like peanuts. Also, check the protein and fibre content, as these nutrients will support healthy weight management.
Sugar Content: You must pick LA Americana Chocolate Peanut spread as it has jaggery and its benefits loaded in the jar. Jaggery, a natural alternative to sugar, can give you the sweetness and taste of peanut butter.
Texture: A chocolate peanut spread with a smooth and creamy consistency can bring taste to all the recipes you prepare.
Final Words:
Chocolate peanut spread that has high protein content with no added preservatives and no palm oil is considered as healthy. However, it must be consumed in moderation if planning to make it a party of your weight loss journey. Also, it is recommended to take a balanced diet and do regular exercise.