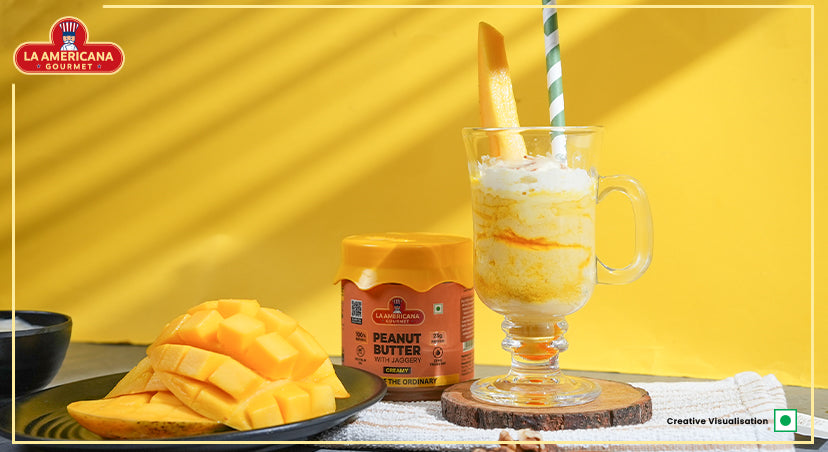 As a gym enthusiast, you should always have different options that supports your fitness regime. One often overlooked yet incredibly versatile and nutritious option in your dietary arsenal is peanut butter. In this blog, we will delve into the reasons why gym goers must consume peanut butter. We'll explore its nutritional benefits and how it can serve as an ideal workout fuel.
A Nutritional Powerhouse
When it comes to nourishing your body for optimal gym performance, peanut butter emerges as a superstar in the nutrition department. Here's why:
Protein Punch
Protein is a fundamental element of muscle repair and growth. And when it comes to having a good source of protein, peanut butter can be a good choice. LA Americana Gourmet Peanut Butter has high protein so consuming around 2 tablespoons can give you fair protein. Including protein in your diet helps repair muscle tissue damaged during workouts and supports the development of lean muscle mass.
Healthy Fats for Sustained Energy
Peanut butter is also known to have fats, which are heart-healthy fats that provide sustained energy. These fats are essential for overall health and may also work as a fuel for those who work out intensely, keeping energized throughout your training session.
Abundance of Vitamins and Minerals
Peanut butter is a treasure trove of essential vitamins and minerals. It contains vitamin E, which acts as an antioxidant, protecting your cells from oxidative stress. Additionally, it provides key minerals like magnesium, potassium, and phosphorus, which are crucial for muscle function, energy metabolism, and hydration. 
Fibre for Digestive Health
Peanut butter also has dietary fibre that helps in digestion and also gives a feeling which aids in digestion and helps keep you feeling full and satisfied. A satisfied stomach can prevent overeating and support weight management efforts.
Is Peanut Butter Good for Fitness?
Now that we've covered the nutritional benefits of peanut butter, let's discuss how incorporating it into your diet can optimize your workouts:
Pre-Workout Energy
When consumed before your workout, peanut butter can provide a steady source of energy. As it has protein, healthy fats, and fibre, it can be an ideal pre-workout snack. Spread it on whole-grain bread or eat it with a banana for a well-rounded energy boost.
Post-Workout Recovery
After an intense workout, your muscles need nutrients for recovery. Peanut butter, with its protein content, can help repair and rebuild muscle tissue. Pair it with whole-grain crackers or use it as a dip for apple slices to kickstart your recovery process.
Satiety and Appetite Control
The healthy fats and fiber in peanut butter can help keep your appetite in check. This can be especially beneficial if you're looking to manage your weight or avoid overindulging in unhealthy snacks. A spoonful of peanut butter can help curb those post-workout cravings.
Convenience and Versatility
Peanut butter is also a convenient source of protein. It requires no preparation and is easy to prepare your favourirte meal using it. Even the gym goers can consume it directly by opening the jar and digging the spoon into it. You can also incorporate it into your diet in various ways, from adding it to smoothies and oatmeal to using it as a base for sauces and dressings.
Balanced Macronutrients
Peanut butter provides a balanced combination of macronutrients, including protein, carbohydrates, and fats. This balance can help ensure that your body has the necessary fuel to perform well during your workouts and recover effectively afterward.
Final Words
You must add peanut butter in your diet and as gym goers who are looking to enhance their nutritional intake and optimize their workouts, it's a boon. Its rich protein content, healthy fats, vitamins, minerals, and versatility make it an excellent choice for pre- and post-workout nutrition. By including peanut butter in your diet, you can fuel your workouts, support muscle growth and repair, and enjoy a delicious and convenient source of essential nutrients. So, the next time you head to the gym, consider peanut butter as your trusted workout companion, and watch your fitness goals become more achievable than ever before.