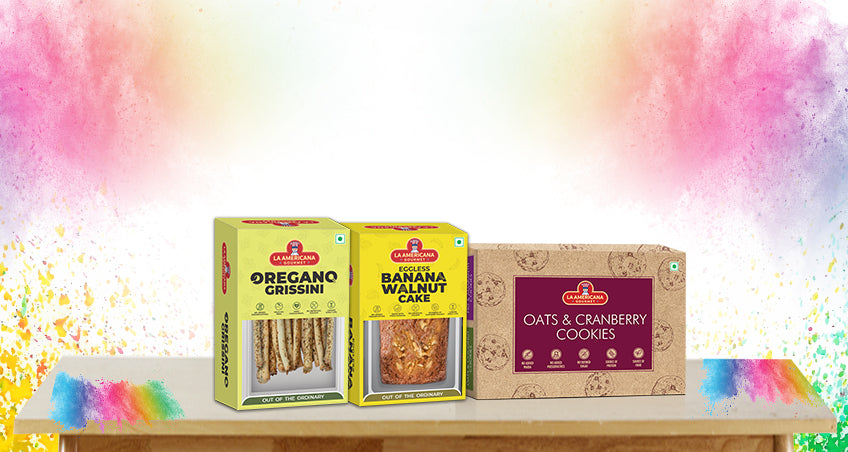 Holi is just around the corner, and the promise of new beginnings comes with it. Holi is a festival that celebrates friendship, love, and togetherness. This festival also represents colors, happiness, and joy. But what makes Holi unique is its food! Here are some must-buy delicacies from LA Americana Gourmet to try out this holi:
  Banana Walnut Cake: Our banana walnut cake is a gourmet dessert that shows off the wonderful flavors of fresh bananas and walnuts. The aroma is just as delicious as enjoying it with rich, crunchy nuts at home. This delightful is baked with love and perfection giving it a moist making it a perfect holi party dessert. 


  Oregano Grissini: Oregano Grissini is the perfect classic munching snack - crunchy, delicious, and super satisfying. This freshly baked and flavorful party snack can be paired with your favorite dip. Serve it as an appetizer in front of your guests; they will love its taste. 


  Wholewheat Bran Pizza: What about pleasing everyone in your holi celebration by making pizza at home? Create delicious and healthy pizza using our wholewheat pizza base. It will be a perfect combination of home-style cooking and good Italian ingredients. With our pizza base, you will satisfy your tastebuds without ignoring the health angle. If you want a fast and convenient party meal that all your family will love, then look no further!


  Oats & Cranberry Cookies: LA Americana Oats and Cranberry Cookies are healthy and satisfying. They're made with whole grains to help you feel full and are naturally gluten-free and vegan. If you love oats and cranberry, these cookies will become your new favorite sweet treat. They are not only tasty and satisfying but also good for you! So, plan it introduce it to guests, and give your celebration a healthy tweak. 
Get ready to eat your heart out this holi
Holi is a festival of sweets, savories, and snacks. We have listed some of the best delicacies to enjoy this festivity with your family and friends. So, buy these delights and give your party a gourmet feel.