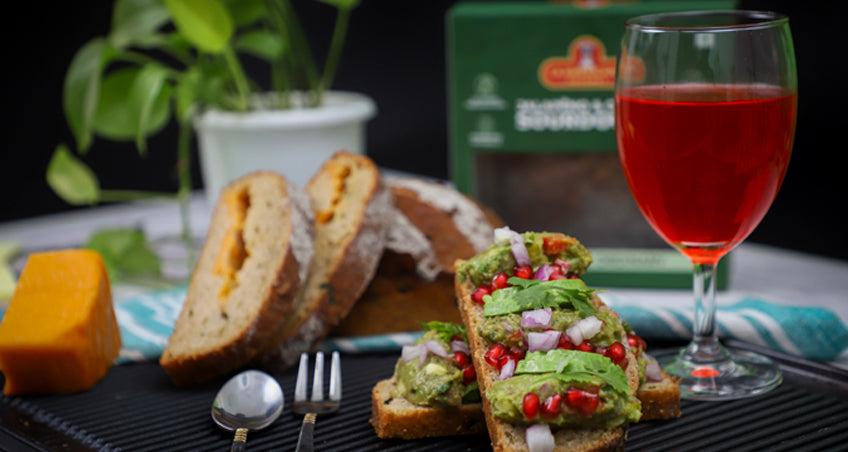 What about starting your day with a scrumptious, satisfying, and health-packed meal? Who says it's not possible? Try your hands in making a mouth-watering sourdough and guacamole toast. It's not an average toast. This delicious breakfast is made with healthy sourdough bread and avocado spread, making it a luxuriously tempting delicacy.
The best part about making this morning delight is that it's simple and easy to make. So, you don't have to think twice before preparing this protein-rich meal to satiate your hunger cravings. It's a burst of rich and versatile flavours that's enough to make you feel energetic throughout the day.
Let's have a look at this fancy-tasty Recipe. 
Ingredients For Guacamole:
1 ripe avocado
½ cup finely chopped onions
1 small finely chopped garlic
¼ cup finely chopped tomatoes
½ cup finely chopped green chilies or jalapeño
¼ teaspoon freshly crushed black pepper 
chopped coriander 
1 teaspoons lemon juice
2 teaspoons extra virgin olive oil
salt as per taste  
pomegranate- for garnish
1 La Americana Jalapeno and Cheese Sourdough Bread

Method to Prepare:
Take a ripened avocado, and mash it well. 
Mix it with the rest of the chopped vegetables. 
Add a pinch of salt, lemon juice, and extra virgin olive oil to the mixture. 
Season it with crushed black pepper
Spread the prepared guacamole on La Americana Sourdough Bread 
Do the garnishing with pomegranate and freshly chopped coriander
Serve it in your breakfast or have it as an anytime wholesome snack

And you are done making this green deliciousness in less than 15 minutes. However, we are not done yet. Below are some bonus tips to make your meal healthier and tastier!
Avocado Toast Bonus Tips:
Here are some easy ways to take your sourdough sandwich up a notch. Let's make your toast experience wow!
Pick any other sourdough: LA Americana has a range of nutritious sourdoughs made with the finest ingredients. You can prepare this guacamole sandwich in any of the LA Americana Gourmet Sourdough and relish the taste of artisanal bread with the benefits of avocado.
Add garlic: To make your breakfast appetizing, rub a peeled raw garlic over your toast prior to adding the avocado. You can also add a pinch of garlic powder to elevate the aroma of your recipe. 
Add fresh herbs or any herbed sauce: Add chopped fresh basil, coriander, parsley, or dill to add a tinge of freshness to your sandwich. You can also drizzle your favourite pesto, green chutney, chimichurri, or creamy jalapeno over the mix.
More extras: You won't get bored with this all-rounder recipe, as there's always an option to add hot sauce, extra veggies, or some sliced fresh cherry tomatoes.
Enjoy the bliss!