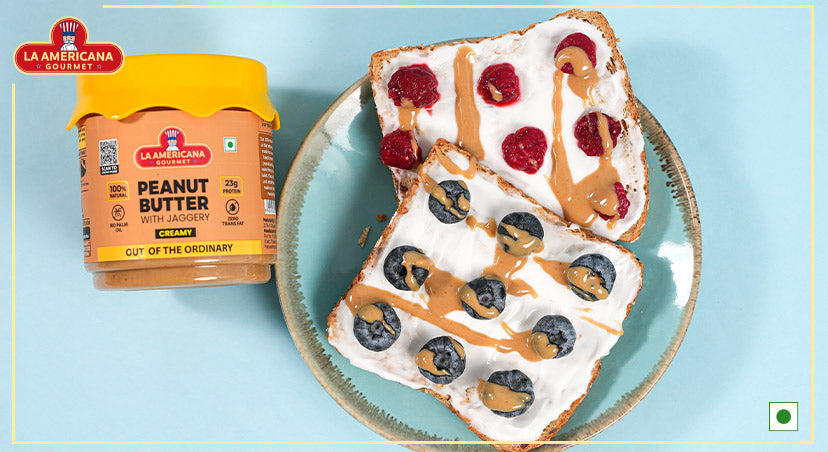 Peanut butter has become a new trend among health enthusiasts. Whether the creamy or crunchy flavor, it's loved by all because of its versatility. This nutritious and tasty food option can be enjoyed in every season and many ways, and you will be amazed to see all the delicious possibilities of it. In this blog, we'll explore the different ways to eat peanut butter throughout the Indian seasons while highlighting its health benefits and offering some creative recipes.
Ways to enjoy peanut butter in Summer
During the sweltering Indian summer, peanut butter can provide a refreshing twist to your culinary adventures. Also, being a healthy option, you can always try your hands in making different recipes out of it. Here are some ideas:
Peanut Butter Smoothie: Nothing can be more refreshing them smoothies in the summer. It is easy to make, tastes like heaven, and is better than other sugary beverages. You can take LA Americana Gourmet Peanut Butter with Jaggery, one banana, milk, and ice cubes and prepare a creamy and nutritious summer smoothie.
Peanut Butter Fruit Salad: To beat the scorching summer heat, you can also prepare a delicious peanut butter fruit salad. Take seasonal fruits of your choice and drizzle peanut butter over them. Guess what? A delectable and protein-packed treat is ready to serve. 
Peanut Butter Iced Coffee: Why settle down with an ordinary cold coffee when you can have a healthy version? Add one spoonful of peanut butter to your iced coffee, and you can't resist the nutty flavor that perfectly complements your beverage.
How to Eat Peanut Butter in a Monsoon
During the monsoon season, we all pray for comforting and warm food items. Peanut butter can add richness and flavor to these monsoon delicacies:
Peanut Butter Pakoras: If you love experimenting with your cooking skills, try making peanut butter pakora and enjoy it in the monsoon season. Mix crunchy flavored peanut butter into the pakoras batter, and a savory delight is ready to relish. 

Peanut Butter Porridge: Enjoy a hearty breakfast by stirring peanut butter into your morning oats or millet porridge, giving you the energy to face the gloomy weather. This out of the ordinary recipe will surely delight everyone.
Ways to Consume Peanut Butter in Autumn

The air becomes crisp as autumn arrives, and the flavors grow more intense. Embrace the nutty essence of peanut butter with these ideas:
Peanut Butter Stuffed Apples: Trying different ways to consume peanut butter when the season changes can benefit your taste buds. These simple peanut butter-stuffed apples can be a comforting dessert option. Take an apple, hollow it out, and fill them with a mixture of peanut butter, cinnamon, and chopped nuts. Bake it and enjoy this warm dessert.

Peanut Butter Trail Mix: Create a custom trail mix by combining peanuts, dried fruits, and a peanut butter drizzle for an autumnal snack.


Peanut Butter Curry: Experiment with peanut butter in curries to achieve a rich, nutty taste that pairs well with the season's produce.
How Should you consume peanut butter in Winter?
In the cold winter months, peanut butter can be used to create hearty and nourishing meals that provide comfort and warmth:
Peanut Butter Hot Chocolate: When you plan for enjoying hot chocolate at home, make it healthier and tastier by adding LA Americana Gourmet peanut chocolates spread into your hot chocolate for a creamy and indulgent beverage that will keep you cozy.
Peanut Butter Dessert Bites: Roll peanut butter into small balls, dip them in melted chocolate, and let them harden for a decadent winter treat. Everyone in the family will enjoy this healthy and tasty dessert.
Conclusion:
Peanut butter is becoming a new staple as it can be easily adapted to suit the diverse Indian seasons. From cooling summer smoothies to warming winter hot chocolate, the versatility of peanut butter knows no bounds. Embrace the nutty goodness in creative ways as the weather changes, and let your culinary journey be enriched with the flavors of each season. Enjoy the delightful fusion of taste, nutrition, and creativity that LA Americana Gourmet Peanut Butter brings to your table year-round.