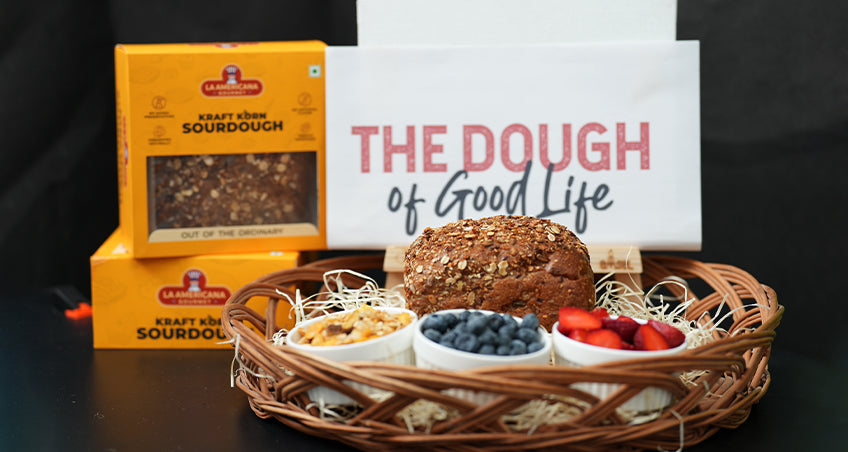 Sourdough bread has been used as a food staple in Europe since ancient times, and it was even documented as far back as 5,000 years ago! (Source) But did you know it is highly beneficial for your health? Sourdough is a living organism that grows on its own over time.
How is Sourdough made? 

Sourdough is commonly made from flour and water, but instead of being fermented with yeast like regular bread, it starts with natural bacteria (lactobacillus). These bacteria act as an acid starter for the dough, which gives it its unique flavor profile. 
The fermentation process creates enzymes in the Sourdough that are good for your body! These enzymes help reduce inflammation and may even help protect against heart disease.
Health benefits of Sourdough
Not only does sourdough bread deliver a tangy flavor that's perfect for toast and sandwiches, but it's good for you, too! Here are five science-backed benefits of sourdough bread. 
Sourdough is easy to digest 
Sourdough contains lactic acid, which helps your body break down fats and proteins more effectively. This makes it easier for you to digest foods which can be beneficial if you're trying to lose weight or reduce your risk of heart disease. 
It is Good for Your Gut
Sourdough contains more healthy bacteria, which can improve your gut health. Moreover, its fermentation process is also responsible for increasing the number of prebiotic and probiotic-like properties. LA Americana Gourmet Sourdough bread is handmade with high fibre, giving the bread additional gut-friendly benefits. 
It's rich in protein 
Sourdough is also rich in protein, so you'll feel fuller longer when eating it! It may take time to realize, but your body will start feeling it and will thank you for shifting to LA Americana Sourdough later. 
It's high in antioxidants
Antioxidants are essential for keeping you healthy because they help fight free radicals in your body that can cause damage over time. So, eating more sourdough bread can help prevent disease and improve your overall health. 
It helps lower cholesterol levels
Sourdough bread is naturally low in sugar, so it doesn't contain much fructose, which helps keep blood sugar levels down and helps reduce the risk of heart disease or stroke (or other conditions). In addition, those who eat more than four slices per day could see their total cholesterol decrease.
It's a wrap! 
Sourdough has made a comeback—and for a good reason. It contains nutrients, healthy carbs, protein, fibre, and vitamins like folate and iron. It can improve digestion, lower chronic disease risk, and promote healthy aging. Whether you buy it from a local bakery or make some yourself, including sourdough bread on your menu will allow you to reap its flavourful benefits.