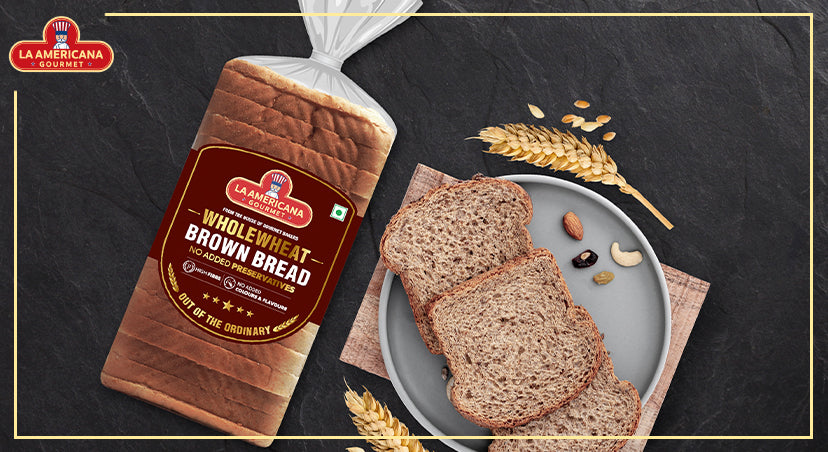 In recent years, there has been a growing emphasis on making healthier dietary choices. One such choice gaining popularity is the inclusion of brown bread in our daily meals. Brown bread is made from whole grains, offering a range of health benefits. In this blog, we explore the advantages of incorporating LA Americana Gourmet Brown Bread into your daily diet and why it is a wise choice for a healthier lifestyle.
Rich in Fibre: One of the primary benefits of consuming brown bread daily is its high fibre content. Whole grains, present in brown bread, contain both soluble and insoluble fibre, promoting better digestion and a healthy gut. The fibre aids in preventing constipation, reduces the risk of colorectal cancer, and helps maintain a healthy weight by providing a feeling of fullness.
Nutrient Powerhouse: Brown bread retains a higher concentration of vitamins, minerals, and antioxidants. It is a great source of B vitamins, including thiamin, riboflavin, and niacin, as well as minerals like magnesium, selenium, and zinc. These nutrients play crucial roles in maintaining overall health and supporting various bodily functions.
Weight Management: For those watching their weight or aiming to shed a few pounds, brown bread can be a valuable addition to their diet. Due to its high fibre content, brown bread helps regulate appetite and control cravings. Additionally, the complex carbohydrates in whole grains provide sustained energy, keeping you feeling satisfied for longer periods, which may help prevent overeating.
The Final Words:
By opting for brown bread as part of your daily diet, you can reap numerous health benefits. From its fibre-rich composition to its contribution to heart health and blood sugar control, brown bread provides a healthier alternative to white bread. However, it's important to remember that overall dietary balance is key, and moderation is always advised.
So, the next time you're contemplating your bread choices, consider reaching for a loaf of wholesome brown bread. Make it a daily habit and enjoy the long-term advantages of this simple yet impactful dietary change. Your body will thank you for nourishing it with the goodness of whole grains and supporting a healthier lifestyle.