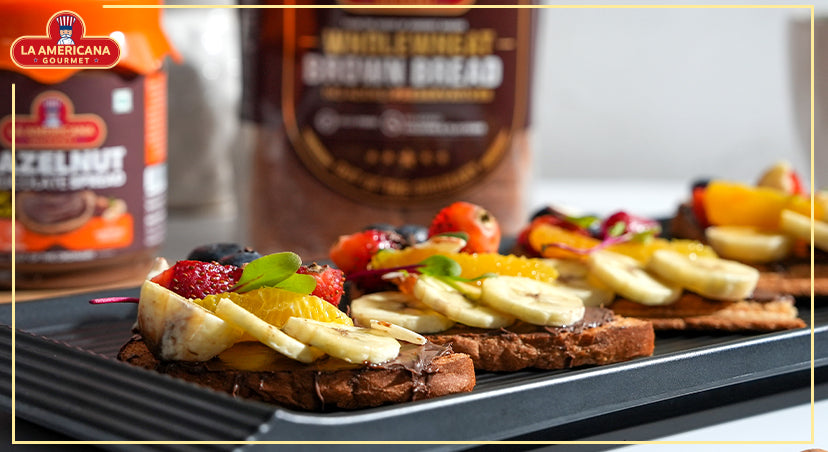 Most of us think of making sandwiches with regular fillings. However, you can always create unique sandwiches with savory and sweet fillings. Nevertheless, don't forget to make the right bread choice. Brown bread can be a perfect base for all your delicious and unique sweet sandwiches. Whether you make fruity delights or go for an indulgent treat, this blog will surprise you with some exciting and tasty, sweet sandwich recipes made with LA Americana Gourmet Brown Bread to elevate your lovely snacking experience. 
Berry Delight: have you thought of making a berry sandwich before? If not, you won't believe how simple it can be. Spread a creamy cheesecake layer filling on a brown bread slice. Top it with your favorite berries and a drizzle of honey. Take another bread slice and put it on top of the filling. This combination of sweet and tangy berries will create a heavenly-tasting sandwich delight. 
Nutty Banana Bliss: Take a spoonful of peanut chocolate spread and smear it on the bread slice. Place thinly sliced bananas on top, add your favourite nuts for a crunchy taste. Place another bread slice on top and savour this cold sandwich any day. 
Cinnamon Apple Caramel Delight: Take thinly sliced apples and give it a toss in the mixuture of sugar and cinnamon. To give your sandwich a caramelized flavour, saute the apple slices. Spread the caramel sauce on the bread slice, place the tossed apples on top, drizzle more sauce, and top it with another bread slice. This wholesome delight will give you satisfactory comfort. 
Chocolate-Berry Sensation: The tempting duo of chocolate and berries can make the sandwich bliss. Spread hazelnut on the brown bread slice, top it with all the fresh berries of your choice. You can sprinkle powdered sugar for extra sweetness. Keep another bread slice on the top and enjoy the fusion. 
That's a Wrap!
Try these irresistible interesting, sweet sandwich recipes and take departure from traditional options. Anytime when you crave something sweet and you have fruits, honey, and peanut butter at home, you can create these blissful sandwiches and enjoy the temptation.