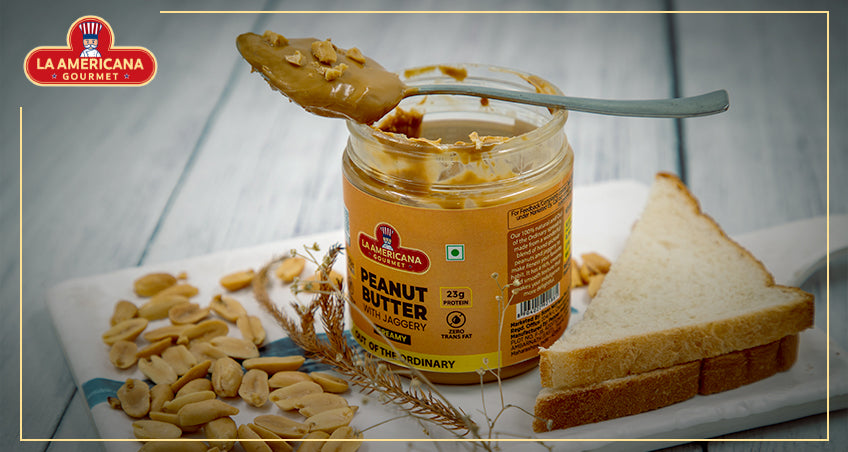 Protein is a crucial nutrient that plays a vital role in maintaining and repairing tissues in our body. While animal-based products are often considered as the primary source of protein, there are several vegetarian options that are equally rich in protein. In this article, we will discuss three major protein sources that you must include in your diet for daily protein intake.
Peanut Butter: It is an excellent source of protein and is also rich in healthy fats, fibre, and essential vitamins and minerals. A 2-tablespoon serving of peanut butter can give a good amount of protein, which is more than what you would find in a glass of milk. And when we talk about peanut butter, you need to pick the one that is natural, palm-oil free, and has no added preservatives. 
Worry not! LA Americana Peanut Butter fulfils your protein requirement as it has 26g of protein (per 100g) and is made of all natural ingredients. This versatile peanut butter can be added to smoothies, oatmeal, or spread on toast for a quick and easy protein boost.
Lentils: Lentils are another excellent vegetarian protein source that should be a part of your diet. A cup of cooked lentils contains about 18 grams of protein, making them one of the richest plant-based sources of protein. Lentils are also a great source of dietary fibre, iron, and other essential nutrients. They can be added to soups, salads, or served as a side dish with vegetables.
Quinoa: Quinoa is a nutrient-dense grain that is packed with protein, fibre, and other essential vitamins and minerals. A cup of cooked quinoa contains about 8 grams of protein, making it a great alternative to meat. Quinoa is also gluten-free, making it an excellent option for those with gluten intolerance. It can be used as a base for salads, added to soups, or served as a side dish with roasted vegetables.
Using these protein sources in your diet is not only beneficial for your health but also sustainable for the environment. By incorporating plant-based protein sources like lentils and quinoa, you can reduce your carbon footprint and contribute to a healthier planet.
It's a Wrap!
In conclusion, peanut butter, lentils, and quinoa are three major protein sources that you can easily incorporate into your diet. By including these protein sources in your meals, you can ensure that your body gets the necessary nutrients it needs to function optimally. So, next time you plan your meals, make sure to add these protein sources for a healthy and well-balanced diet.